Both Mr. Whitten and Mrs.Toth were out at different times last week – both third grade classes wrote adventure stories about where they thought Mr. Whitten was and where they thought Mrs. Toth was when they were not in their classrooms. (These stories were inspired by the book Miss Nelson is Missing.) and are now on display, on the hallway bulletin boards for other classes to read as they pass through the halls.

Wells Road will wear blue on Monday, 10/7/19, to participate in the World Day of Bullying Prevention. Let's put an end to bullying! Remember . . . Kindness Matters!

Vision/Hearing screenings: Annual vision screenings for all grades will be done October 22 for vision and October 24 for hearing. Parents will be notified if a referral to your doctor is needed. Please call with any questions or concerns. We can still use volunteers to help make the days run smoother. October 22 has two shifts available at 8:30-12:00 and 12:30-3:30 and October 24 form 8:30-12. Please contact me vie email or phone if you can help.
nursewells@granby.k12.ct.us
Kim Cosgrove RN Wells Road Intermediate School Nurse

Mrs. Cloukey's fourth grade writers are working hard to create realistic fiction characters with desires and difficulties. Students in Mr. Faber's class explore and comment on each other's work on Seesaw. Seesaw is an educational platform that allows students to share work, ideas, and feedback with each other. It also allows parents to get a glimpse inside their child's classroom through their child's online journal.

Wells Road phones are back in service!

Our phone lines are currently down at Wells Road. If you need to get a message to us, please email
klarsen@granby.k12.ct.us
.

Estudiantes (students) defined their esperanzas (hopes) and sueños (dreams) for their learning İen español! this year. As students practice Spanish language in routines, songs, stories and games, they also show how to be kind (ser amable) while laughing and learning together! We celebrate Hispanic Heritage Month! During Hispanic Heritage Month (Sept. 15-Oct.15) we take this opportunity to kick off a whole year of diverse cultural appreciation! Consider exploring the Smithsonian Institute's Kids' Corner:
http://latino.si.edu/KidsCorner/index.html

Thank you Wells Road Families! Together we have raised over $600 to support the victims of Hurricane Dorian.

Thank you Wells Road Families! Together we have raised over $600 to support the victims of Hurricane Dorian.

Yesterday we began a very short three-day campaign to raise funds for the victims of Hurricane Dorian. As a school that promotes compassion, some of the students brought up their concerns and asked to help. There will be students outside the cafeteria for all three lunch-waves from Wednesday until Friday. Any donation would be very helpful! We will collect change, cash, and/or checks. If you are writing a check, please make it out to Wells Road Activity Fund. On Friday, the money will be totaled, and the amount will be split between two agencies. The first is Project Hope, and the second is The American Red Cross. If you are interested in learning more about how this money will be used, please visit their websites for more information. Thank you for your help!

Mrs. Bavol, Mrs. Fleming and Mrs. LaFlamme's classes analyzed exemplar responses to reading by having a silent annotated conversation. Students were expected to comment on the text and each other's ideas through writing. It was a great way to examine what is expected for their own reading responses.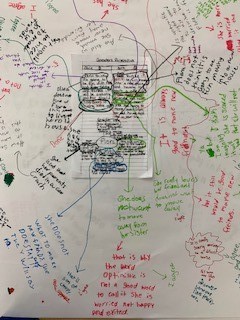 Need a book to finish the summer? Want a sneak peak at what's new in our Media Center? Stop by on August 9, from 9:00-12:00! I'm looking forward to meeting you and hearing your summer stories.

Meet Pauline Greer! Please stop by to say hello or have a quick chat during our "Meet the New Principal" hours. Monday, July 29th from 1:00 to 3:00 - Tuesday, July 30th from 9:00 to 11:00 and Wednesday, July 31st from 1:00 to 3:00.

Welcome to the new GPS website! Choose Menu in the top right to view helpful resources. Download the Granby Public Schools app from the Apple or Google Play app store.