EDIT MAIN
Granby Equity Team
Granby Public Schools' Mission Statement:
All students will become powerful thinkers, effective collaborators, and compassionate contributors in preparation for success in a dynamic, interdependent world.
Granby Public Schools' Statement of Equitable Practices:
Equitable practices in the Granby Public Schools ensure that all students achieve at high levels when outcomes are not predicted by race, religion, ethnicity, socioeconomic status, gender, gender identity, or sexual orientation; and barriers are removed to meet the needs of students of all abilities and backgrounds; thereby realizing the district mission for all students to become powerful thinkers, effective collaborators, and compassionate contributors.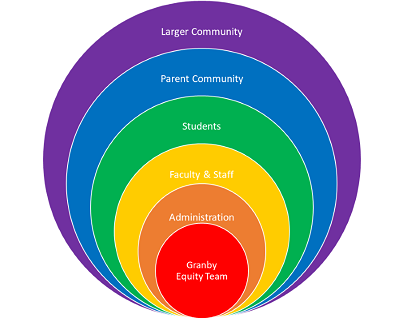 Granby Equity Team Overview:
The Granby Equity Team (GET) commenced in the winter of 2017 as the Equity Taskforce. Launched through generous grant funding, Moving to Action for Equitable Classrooms, Granby participated in an equity-focused partnership with the Connecticut Center for School Change (the Center), and the Amistad Center for Culture & Change. The original partnership concentrated on uncovering and addressing the systemic inequities and disparities that contribute to the persisting achievement gaps amongst Granby's student population. Today, GET receives support through the Granby Board of Education operating budget allowing the strategic partnership with the Center to thrive and grow in order to address systemic inequities that exist in Granby.
Granby has exhibited a long-term district commitment to equity, inclusive of specific Board of Education goals and School Improvement Plan priorities. Despite a six-year equity focus, gaps in achievement between students of color and white students, and between students with IEPs and 504 plans and their peers, have remained consistent. The partnership between GET and the Center guides district efforts to surface the systemic causes of the gaps, recommend strategies for improvement, and monitor district progress to ultimately decrease persisting gaps in achievement and other areas.
GET develops leadership capacity across a variety of stakeholder groups in order to shift mindsets and implement equity-focused classroom, school and district practices. The Center provides expertise in coaching and facilitation, as well as technical assistance, to district leaders, building leaders and the guiding coalition of GET. The focus of the partnership includes:
1.Understanding the root causes of inequity, the organizational contributors to that inequity, ways educators may sometimes inadvertently reinforce those inequities, and recommending changes to policies and practices to address inequities;
2.Developing and embedding processes and structures for sustained cycles of planning, acting, monitoring, and adjusting;
3.Changing long-standing mindsets and practices of all the stakeholders to create deep cultural transformation within the district; and,
4.Establishing both relational and reciprocal professional accountability.